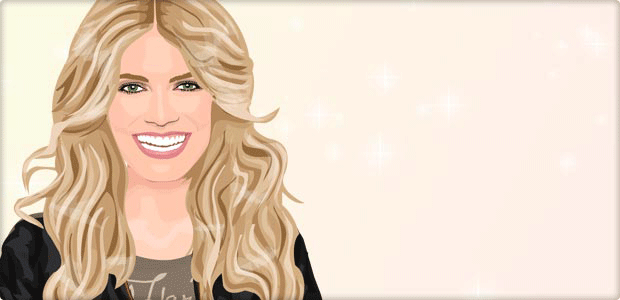 Здрасти, аз съм Heidi Klum!

1. June 1973
My birthday in Bergisch Gladbach, Germany.
Winter 1991
Winter 1991 My friend, Karin, persuades me to fill out a magazine coupon: I enroll for the national contest "Model 92
April 29th 1992
I win the contest "Model 92" and soon I get my first real modeling job. I'm happy, but I decide to be sensible: I pass up the offer in favor of finishing school first.
June 1992
School is finished. I take the Final Examination at the "Integrierte Gesamtschule Paffrath" in Bergisch Gladbach, Germany. Art and mathematics are my best subjects. About the others I don't want to tell you so much...
Summer 1992
I stop studying to be a fashion designer and instead, decide to pursue a career as a model, which I realize could be a big risk, but at the same time, would be my dream job. I'm still sensible, though, so in order to take care of myself and make sure I keep my feet on the ground, I get three things at first: a lawyer, worldwide insurance, and a telephone that is always with me as a permanent connection to my parents.
Summer 1993
I cross the ocean to work in Miami. A bit later I move to New York. Since October 1993, I have lived in Manhattan.
Summer 1996
I found the Heidi Klum GmbH, which has its main address in Bergisch Gladbach/Germany, and participate in developing the firm logo. It becomes a trade-mark and I secure a copyright on my name also. The reason? I've thought: "Better to be prepared. You never know what can happen."
1997
I walk the runway for the first time. It's the Victoria's Secret Fashion Show, which is one of the most press-heavy shows in the United States, and it catapults me to more recognition from the public and to the next level as a top model. In summer I say yes to Ric Pipino and we are married till end of 2003.
1998
I'm the first German cover girl of the "Sports Illustrated Swimsuit Issue". That means 55 millions of readers, and for me personally it means a big international breakthrough.
1999
I make my acting debut. I'm the love interest of Michael J. Fox's character in the ABC hit sitcom Spin City. I play a version of myself, the model Heidi Klum. 2000 My first calendar is published in the States. The photos are shot in St. Barts by top photographer Antoine Verglas.
2001
I make my movie debut. It's a very small part in the Miramax comedy BlowDry. I play Jasmine, an eccentric hairdresser's model caught between rival brother hairstylists. The film is written by the Full Monty team. Other cast members include Alan Rickman, Natasha Richardson, Rachael Leigh Cook and Josh Hartnett.
2001
Who would have thought that the hard-rock band Wheatus would ask me to join them? Suddenly I'm a singer, but just for one song of course. It happens during MTV's "Fashionably Loud Europe," in Milan, which I host that year.
October 2001
The German version of my new website is finished.
October 2001
The first German Heidi Klum calendar is published
Covers
I work a lot and have been fortunate to be featured on a variety of top fashion magazine covers including: Amica, Cosmopolitan, Elle, Esquire, FHM, Glamour, GQ, Kultur-Spiegel, Mademoiselle, Marie Claire, Max, Photo, Self, Spiegelreporter, Sports Illustrated, Stern, Tatler, Time Out, Victoria's Secret catalog, Vogue (British, German, French) and W.
Photographers
In the course of my modeling career, I've worked with so many wonderful photographers who have done some great work. Here are the names of some illustrious photographers who have put me in the right light: Gilles Bensimon, Richard Burbridge, Walter Chin, Patrick Demarchelier, Sante D'Orazio, Arthur Elgort, Robert Erdmann, Marco Glaviano, David La Chapelle, Peter Lindbergh, Wayne Mazur, Raymond Meier, Steven Meisel, Shiela Metzner, Matthew Ralston, Stewart Shining, Michael Thompson, Ellen von Unwerth, Max Vadukul and Antoine Verglas.
Special Events and TV Talk Shows
I've had a blast being a guest and even working as a correspondent or host myself on several talk shows and special events both in Europe and the States. Some highlights: Reinhold Beckmann ("Beckmann"), Conan O'Brien, Thomas Gottschalk ("Wetten dass...?), Gunther Jauch ("Wer wird Millionar" - Benefiz-Prominetenquiz), Johannes B. Kerner ("Johannes B. Kerner-Show"), Jay Leno, David Letterman, Jorg Pilawa, Regis, and Harald Schmidt ("Die Harald Schidt-Show").
Acting
My acting debuts was supposed to be a really short stint; I was set to have a cameo as Michael J. Fox's love interest on ABC sitcom Spin City, playing a version of myself. But it went well and I ended up doing at least six episodes of the show.I've also had guest spots on series Sex and the City, The Weber Show and Malcolm in the Middle. In autumn 2000, I made my film debut in a Miramax comedy called Blow Dry, written by the Full Monty screenwriter and produced by Sydney Pollack. It appeared in German, British and US cinemas in 2001. I had the supporting role of Jasmine, an eccentric hairdresser's model caught between two rival brother hairstylists. Other cast members included Alan Rickman, Natasha Richardson, Rachael Leigh Cook and Josh Hartnett.
Hosting, Commenting, Singing
I hosted MTV's "Fashionably Loud Europe 2001" in Milan. The rock band Wheatus was on stage, and I was thrilled to join them on stage to sing the chorus of their song, "Teenage dirtbag" just for fun. I like to sing, but up until then, I hadn't done so in public.well, with the exception of yodeling for laughs on David Letterman and Johannes B. Kerner shows. When the Laureus World Sports Awards 2001, the "Oscars of Sports," were awarded in Monaco for the second time, I co-hosted with Gregory Hines. That was quite exciting because 170 TV stations transmitted the event worldwide to an audience of about one billion people.
The Heidi Klum calendar
I produced my first calendar as a Millenium edition for the year 2000. This swimsuit calendar was only published in the States. In Europe, the first Heidi Klum calendar was made for 2002, also featuring swimsuits, including some I designed myself.