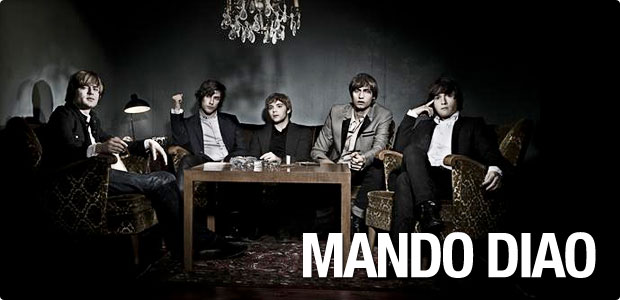 Explosive. Harmonic. Brittle. Roaring. Sharp. Grand. Spiritual.
Those are some of the words used to describe the unique alternative sound of the Swedish Band Mando Diao. The origins of Mando Diao dates back to 1995, in Borlänge, when Björn Dixgård and former Mando Diao member Daniel Haglund played in a band called Butler.
One night at a party Björn Dixgård met Gustaf Noren, and they both sat up all night discussing the Beatles. It was hardly a surprise, given that they shared this common interest, that Gustaf soon was invited to join the band; followed by Carl-Johan "CJ" Fogelklou (bass), Samuel Giers (drums) and Mats Björke (keyboards).
Mando Diao has toured all over the world, though their biggest following is in Germany, Japan and their homeland of Sweden. They headlined most of the big European Festivals in 2009 including Rock Am Ring with 90,000 spectators in front of stage.
They have released 5 records since the start 2002 and their latest album Give Me Fire reached #1 on album in Germany, Austria, Switzerland and they sold platinum with 250 000 albums in Germany. Their smash hit 'Dance With Somebody' was the most played song on German radio in 2009 (which even surpassed Lady Gaga)!
Check out the Rockin' Interview with Mando Diao in Stardoll Magazine!
變身 Superstar