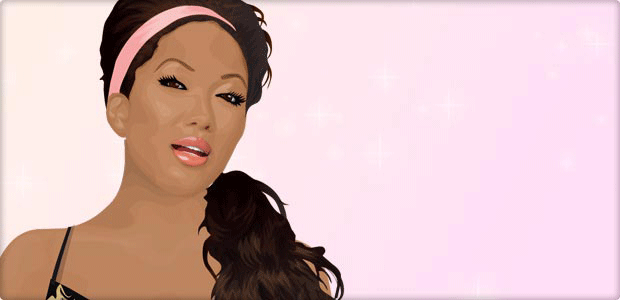 Bonjour, je suis Kimora Lee Simmons!

A native of St. Louis, Missouri, Kimora seemed destined for stardom. By age 10 she already stood 5'10, towering above her classmates. To build her confidence her mother enrolled her in modeling classes.
At 13, her unique exotic mix of Asian and African-American beauty captured the attention of agents at a St. Louis model search. She was soon whisked away to Paris and quickly earned an exclusive contract with the House of Chanel. Karl Lagerfeld declared her his "muse" and deemed her the "Face of the 21st Century".
Kimora has graced the covers and pages of International fashion magazines such as Vogue, Elle, and Harper's Bazaar.
She has also modeled for the likes of Armani, Fendi, and Yves St. Laurent and posed for iconic fashion photographers, which include Steven Miesel and Patrick Demarchelier.
Kimora next brought her incredible fashion industry experience to the groundbreaking Phat Farm Men's Collection. For the 1999 Phat Farm runway show at New York Fashion Week, Kimora produced custom made fitted tees cleverly labeled with the name "Baby Phat" for the female models to wear on the runway. The tee was soon in demand by top models, celebrities and trend setters. So hot was the desire for the sexy tee that the decision was made to launch a Baby Phat Women's Collection, with Kimora Lee Simmons at the helm. Her upbeat, fun and charismatic personality was reflected in the unique design of the collection. In ten short years she created an industry phenomenon that made her – the new establishment. Today, she is the President and Creative Director of Phat Fashions, which includes:
Baby Phat, Baby Phat Girlz, Phat Farm, Phat Premium and Phat Farm Boyz.
She is the instrumental force behind the brands' designs, ad campaign strategies, marketing concepts and overall global business strategies. Her mesmerizing personality and over-the-top style continue to be the inspiration for the Baby Phat designs, captivating media and fans around the world.
Kimora is the star of Style Network's top-rated show "Life in the Fab Lane", also syndicated on E! Television Network. Kimora has appeared as a judge on America's Next Top Model with dear friend and former Paris roommate Tyra Banks and co-hosted a daily syndicated talk show "Life & Style". She has produced numerous television specials including Def Poetry Jam, for which she won a Tony Award in 2003. Her book "Fabulosity: What it is and How to Get it" garnered rave reviews from respected publications such as the Washington Post and the Boston Globe. The book empowers women to cultivate their inner goddess with independence, fearlessness, and confidence. Kimora was also a correspondent for E! Television Network's red carpet coverage of the 59th Annual Primetime Emmy Awards and co-host of the Special 2007 Emmy Awards: Awards Fashion Police.
An enthusiastic philanthropist, advocate for women's empowerment and patron of the arts, Kimora donates her time and support to numerous charitable organizations, especially those institutions that target disadvantaged youth. The Kimora Lee Simmons Scholarship Fund, established at her alma mater in St. Louis, provides college tuition support for academically successful girls with financial needs.
She is also an active member of youth advocacy organizations including Amfar, The G&P Foundation, Keep a Child Alive, Hetrick-Martin Institute and Rush Philanthropic, where she is on the Board of Directors.
As emphasized in her hit book, supporting charitable organizations should be an important element in life but nothing should come before family.
Family is a top priority in the balance of her life; her stunning daughters Aoki Lee and Ming Lee Simmons and son Kenzo Lee Hounsou are Kimora's proudest accomplishments.
Like their mother, her daughters are naturals in front of the camera as the faces of Baby Phat Girlz Clothing. Kimora's baby son Kenzo, with long time companion, three-time Academy Award nominated actor Djimon Hounsou, is sure to continue to inspire her creativity.
Career Highlights
Style Network Reality Show: "Kimora: Life in the Fab Lane" (2007-2009)
Larry King Live: (2008)
E! True Hollywood Story: (2008)
The 2008 Academy Awards: "Life from the Red Carpet" (2008)
America's Next Top Model: Judge (2003-2008)
American Apparel and Footwear Association- Designer of the Year Award 2007
Comedy Film: "Beauty Shop" (2005)
20/20: Profile (2005)
Film: "Unzipped" (1995)